Botox cost near me in Kent:
1 area £170
2 areas £245
3 areas £295
Excessive sweating: £450 (armpits or hands)
TMJ (jaw clenching): £315
To help keep this treatment as affordable as possible, we ensure our Botox prices are extremely competitive compared to other wrinkle reduction experts near us in Sevenoaks, Kent.
Consultations with Dr Dipen Patel are completely free! So why not come in and see how Botox could work for you.
We include free review appointments with all treatments, and we don't charge for any top ups if required (within 14 days of initial treatment).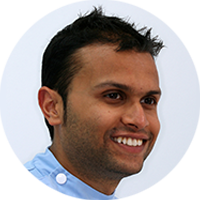 Dipen Patel
Principal Dentist
Aesthetics Expert
BDS MJDF RCS Eng
1000+
Botox Treatments
200+
Dermal Filler Treatments
9+ Years
Facial Aesthetics Experience
Meet our
Kent Botox expert
Our Botox expert Dipen has been a dentist for over 16 years and has over 9 years facial aesthetics experience. He has undergone extensive training in the anatomy of the face and regularly attends courses to stay up to date with the latest aesthetic techniques.
He is currently undertaking a Level 7 Qualification (similar to a masters degree) in facial aesthetics in Kent. He is extremely passionate about complex facial aesthetic treatments and makeovers including anti-wrinkle treatments and dermal fillers.
Cosmetic dental treatment combined with facial aesthetics can provide patients with a full facial rejuvenation and take years off their smiles.
His Botox treatments have helped boost the confidence for hundreds of patients across Sevenoaks, Kent and Surrey.
See Dipen's Full Bio
Book a free Botox Consultation with Dipen
Book a FREE wrinkle reduction consultation with Dipen
Botox treatment case studies in Sevenoaks
Kerry was concerned about her frown lines, and wanted something to soften the area.
Dr Dipen Patel treated the area with Botox to relax the muscles that contract the muscles in the frown area to provide a desirable outcome for Kerry.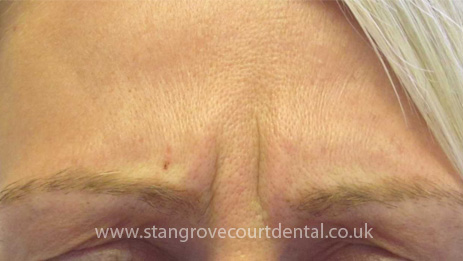 Before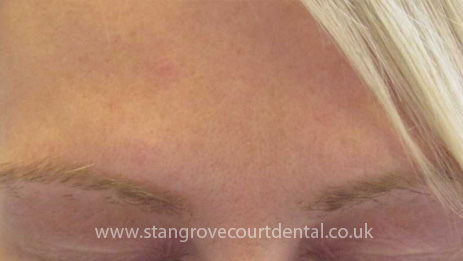 After
Essential facts to know before getting Botox


Botox is a neurotoxin. It is a protein that is produced by the bacterium Clostridium botulinum. Botox is used to relax muscles, and it is FDA-approved for the treatment of wrinkles, migraines, and excessive sweating.


Botox is a safe and effective treatment. When administered by a qualified healthcare professional, Botox is a safe and effective treatment for wrinkles. However, there are some risks associated with Botox, including:



Pain, swelling, or bruising at the injection site
Headache, flu-like symptoms, and upset stomach
More severe side effects, such as trouble breathing or swallowing, muscle weakness, double vision, and loss of bladder control



Botox is not a permanent treatment. The effects of Botox typically last 3-6 months.


Botox is not a cure for wrinkles. Botox can help to reduce the appearance of wrinkles, but it will not eliminate them completely.


Botox is not a substitute for a healthy lifestyle. Botox can help to improve the appearance of your skin, but it is important to maintain a healthy lifestyle, such as eating a healthy diet, exercising regularly, and getting enough sleep.

Here are some additional things to consider before getting Botox:
Your age. Botox is generally not recommended for people under the age of 18.


Your medical history. If you have any medical conditions, such as muscle weakness, you should talk to your doctor before getting Botox.


Your expectations. It is important to have realistic expectations about what Botox can do. Botox cannot eliminate wrinkles completely, and it can take several treatments to see the desired results.
If you are considering getting Botox, it is important to do your research and talk to a qualified healthcare professional to make sure that it is the right treatment for you.
About Botox treatment
If you want to reduce the lines on your face without having to resort to surgical procedures, the good news is that facial rejuvenation techniques can soften wrinkles for a more youthful appearance.
The benefit of having this treatment done by dentists is that they have a thorough knowledge and understanding of the facial anatomy and can perform this delicate work in a precise and safe manner.
Our practice uses the botulinum toxin type A for this treatment, an injectable aesthetic solution.
Quickly see how Botox works
See our latest Botox patient reviews via Google Business

£
Edenbridge
01732 863061
Stangrove Court Dental Practice
"Dr Dipen Patel is Amazing!!, he's the best when it comes to Aesthatic procedures. Firstly he makes you feel welcome, comfortable and at ease. My treatments with Dr Dipen Patel include Profhilo, fillers and Botox which were all well explained.
I Highly recommend anyone that needs a very confident and knowledgeable Doctor to book an appointment with Dr Dipen.
Thank you so much and I'll continue to drive 21 miles to see you. Hazel M."
The Botox treatment process explained
Once injected into the skin the botulinum toxin relaxes the tiny facial muscles, which cause expression lines, by blocking the nerve impulses in them, leaving the skin looking smoother.
Areas on the face that can be treated include frown lines (vertical lines which form between the eyebrows), eyebrows, crow's feet, forehead lines and lines around the mouth and top lip, known as 'smoker's lines'.
The injection is quick and painless, usually lasting around 5-10 minutes and requiring no anaesthetic. Results will usually be seen in a few days, sometimes taking between 4-7 days for the effects to be seen.
As this is not a permanent treatment, the effects will wear off over time. It is therefore possible for the procedure to be repeated every 3 months for effective results.
Life Benefits
Reduced facial lines for more youthful appearance.
Non-surgical and painless procedure.
Botox can also be used to treat severe or excessive sweating. If you suffer from this Dr Dipen Patel can treat this with botox injections.
Within 10 days of administering the injections there will be a noticeable decrease in sweating. Botox enters the sweat glands and blocks the nerve impulses, and there us no effect on other nerve functions.
Handpits and armpits are both areas that can be treated.
Botox for TMJ (clenching)
If you grind your teeth excessively, Botox could help control the resulting symptoms. Botox will relax the overactive muscles that cause grinding.
Sometimes the masseter muscle can become overdeveloped giving a broader facial appearance which may not be aesthetically desirable. Botox is a simple, safe effective treatment for clenching.
Botox frequently asked questions
Do Botox injections hurt?
We use very fine needles to inject the Botox, which cause only mild discomfort. A numbing cream can be applied before treatment to decrease the discomfort if preferred.
---
What areas can be treated?
The most common 3 areas are the forehead, frown and crows feet (lines around the eye). However, there are many other areas which we can use Botox for.
These include fine lines around the lips, wrinkling on the chin, neck lines (platysmal bands), treatment to correct a 'gummy smile' and correcting overactive masseter muscles (the muscles in your cheek which can cause teeth grinding).
In addition to all of these, Botox can also be used for excessive sweating (e.g. underarms, palms of hands).
---
How long will the treatment effect last?
The treatment will need to be repeated every 3-4 months, and after several treatments the effect will last longer and may not need to be repeated as frequently. For excessive sweating, treatment can last from 6-12 months.
---
What is the aftercare advice?
Avoid touching/rubbing the treated area for 24 hours, avoid skin treatments (facials, derma roller, skin peels etc.) for 24 hours, avoid large amounts of alcohol consumption and avoid strenuous physical activity.
We will give you a full after care advice leaflet post treatment at the clinic.