Results of Fillers in Kent
Jen came in looking for a small increase in volume, and some definition to her lips, but not wanting to look 'fake'.
We treated the area with 1ml of Juvederm Volift, and she was delighted with the natural result.

£
Edenbridge
01732 863061
Stangrove Court Dental Practice
"Had lip fillers done by Dr Dipen and had a great experience and amazing results. He really listened to what I wanted and really delivered. My lips are subtly plumped and look so natural.
Definitely will be going back for more aesthetic treatments with him."
- Jen, Kent Lip Fillers Patient -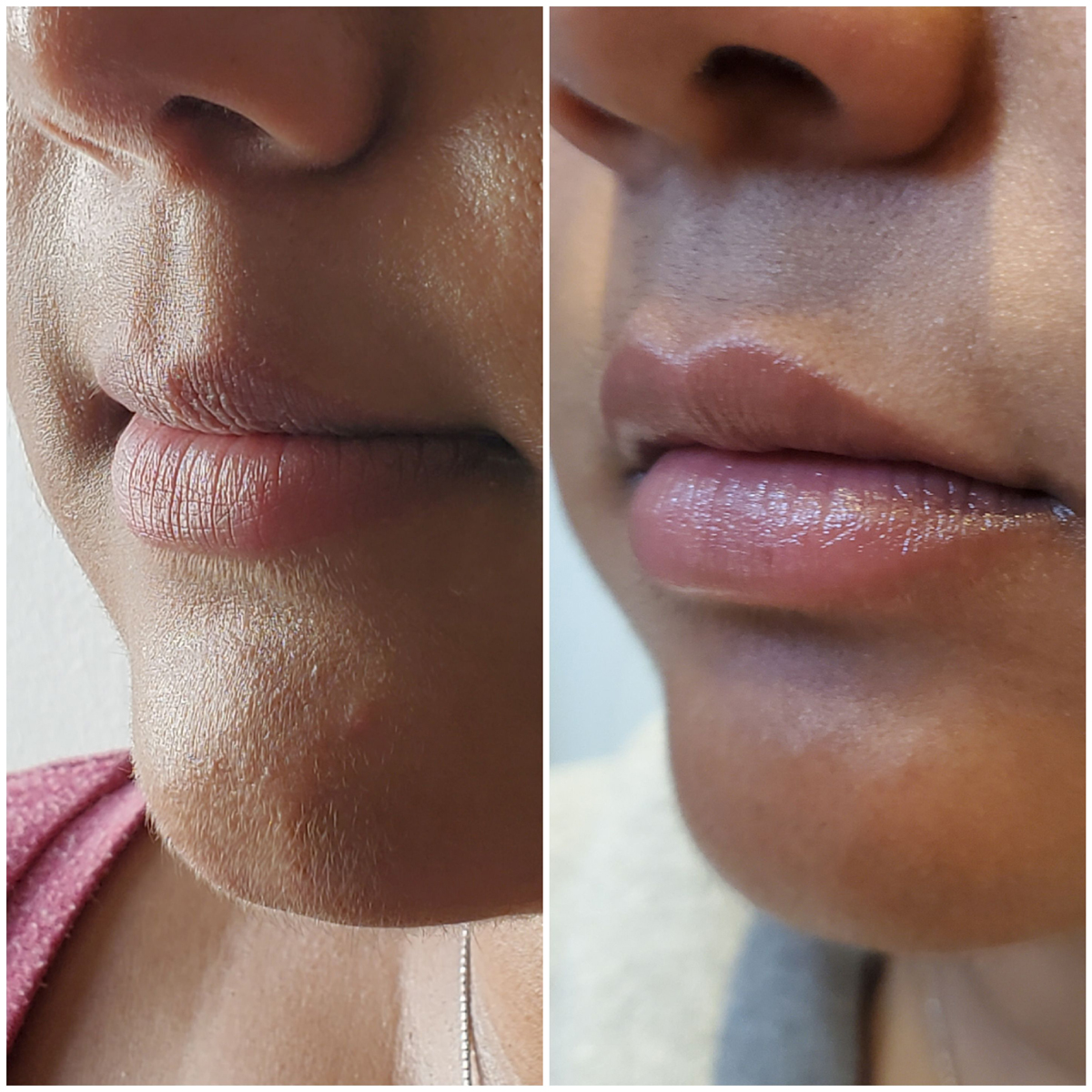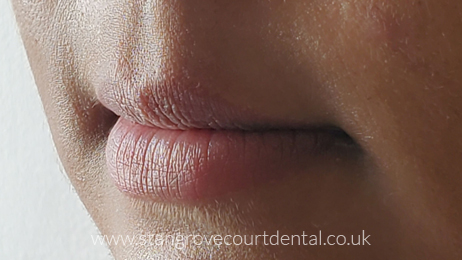 Before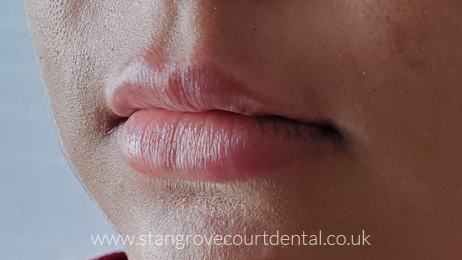 After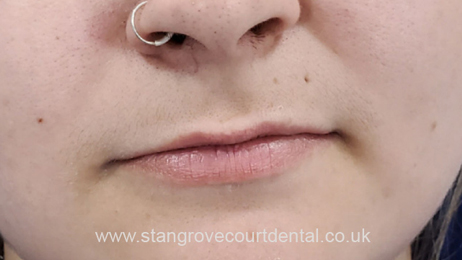 Before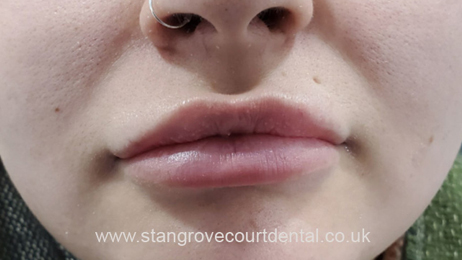 After
3ml over a period of 6 months (3 sessions) of JuvedermVolift® into the lips.
Another delighted patient treated with lip fillers in Kent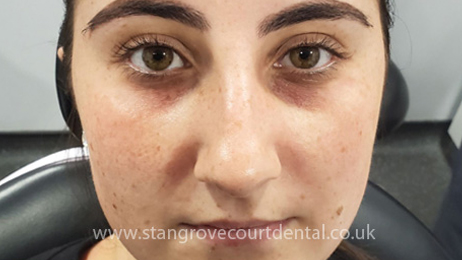 Before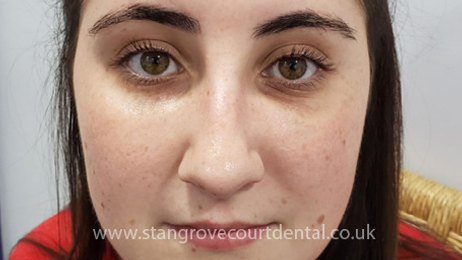 After
Jaye came wanting the dark circles and hollows under the eyes treated. We used 2ml of Juvederm Volbella to decrease the hollowing and the dark circles. Safe to say she was delighted with the result!
Dermal filler treatment is a cosmetic procedure that plumps up facial lines and wrinkles to make the skin look more youthful. Fillers usually consist of sterile hyaluronic acid gels made from non-animal sources. As we age, the skin's natural hyaluronic acid is lost, giving rise to the appearance of lines, wrinkles and folds. Fillers are also used for lip enhancement and for shaping facial, hand and neck contours. Here is how dermal filler treatment works: ​
Local anaesthetic is first administered to the area to prevent any discomfort.
The dermal filler is then injected, which only takes a few minutes.
The effect of the treatment is visible immediately.
Depending on the area treated, skin type and the injection technique, the filler effect can last between 6 and 12 months (usually six months for lips)
Follow-up treatments will help to maintain the plumped up look over time.
As this is not a permanent treatment, the effects will wear off over time. It is therefore possible for the procedure to be repeated every 3 months for effective results.
Life Benefits
Smoothed out skin surface for a more youthful appearance.
Non-surgical and painless procedure.
Different areas that Dr Dipen Patel treats with dermal filler at Stangrove Court Dental Practice include:
Lip Fillers Kent
The most popular dermal filler treatment. Lip fillers can help increase the volume for a fuller lip, and can enhance the contour of the lip, leading to better with definition. It can also improve lip asymmetry.
Cheek Fillers Kent
Essential to help create a natural lift and add volume to an area which lessens with age. Often when administering cheek filler, not only does the cheek area appear fuller, you can also get a lift to the lower face which can improve the nasolabial folds. Contact us today for cheek fillers in Kent!
Nasolabial Lines
These are the lines from the nose to the corner of the mouth, which can be effectively improved with dermal filler.
Tear Trough
The area under the eye, between the cheek and the lower eyelid. A delicate area in which dermal filler can really improve volume loss and the appearance of dark circles under the eye.
Marionette Lines
These are the lines that run from the corner of the mouth down to the chin.
Jaw and Chin Fillers
Treatment in this area can really help define the lower face and is great for profile harmonisation.
Temple Fillers
A fantastic non surgical way to fill hollow temples.
Generally most patients will have a combination of different areas to help create a great youthful look.
Dr Dipen Patel uses two of the most well known brand of dermal fillers, restlyane and juvederm. The choice of product depends on the area being treated and patient preference. With over 6 years of experience in the facial aesthetics field, you are sure to be in good hands!
FAQs
Do dermal fillers hurt?
Nowadays a lot of dermal fillers contain local anaesthetic which can decrease discomfort during treatment. We can also apply a numbing cream before the procedure which will further minimise the pain.
What is the aftercare advice after dermal filler treatment?
We advise you to avoid exposing the treated areas to extreme heat (e.g. sunbathing, steam rooms etc), avoid rubbing or massaging the area which has been treated, avoid facial skin treatments (e.g. microdermabrasion, derma roller, facials etc) and avoid alcohol consumption for 24 hours.
How often should I have dermal filler treatments?
Some areas can last up to 18 months, but most patients prefer to have maintenance treatments before this time frame. The area treated can have an effect on how long the dermal filler will last, for example those who get lip fillers in Kent will notice last a shorter period of time (6-12 months) due to the increased dynamic movements of this area.
How is dermal filler treatment administered?
Dermal can be administered by either (or a combination of) fine needles or a cannula (blunt ended tube). Cannulas decrease the chances of bruising, and needles offer more precision.
What are the side effects after dermal filler treatment?
Side effects include swelling, redness, tenderness and bruising.
Dermal Filler Costs:
1ml Filler: from £295
0.5ml Filler: £200
We are currently offering free consultations for patients interested in fillers. So why not come in and see Dr Dipen Patel to see if fillers are suitable for you!
Profhilo
We are pleased to announce a new treatment which we are offering to our patients. Profhilo is an injectable hyaluronic acid (similar to a dermal filler) which is great at treating skin laxity. For more information please arrange a free consultation with Dr Dipen Patel.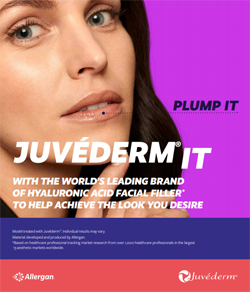 Located in Edenbridge near the border of Kent and Surrey, we are a short distance away from many neighbouring towns such as; Hever, Sevenoaks, Leigh, Tunbridge Wells, Oxted, Godstone, Tatsfield, Titsey, Woldinham, Limpsfield, Hurst Green, Westerham, Sundridge, Riverhead, Ide Hill. Crockham Hill. Blindley Heath, New Chapel, Penshurst, Speldhurst, Langton Green, Friars Gate Hartfield, Forest Row, Coleman's Hatch, East Grinstead, Copthorne, Burstow.
Free parking is available in front of the practice
We are centrally located, just a 5 minute walk away from Edenbridge Town Station.
Directions on foot from Edenbridge Town Station:
.
- Walk down to the end of Station Road
- Turn left onto Station road
- Take the first right onto Stangrove Road
- Walk down until you see us on the right hand side of the road