What are ceramic braces?
As the name suggests, ceramic braces are the same as metal braces except that they're made out of a tooth-coloured porcelain material instead of stainless steel. When paired with a white archwire and clear brackets, their appearance is virtually invisible. They're often referred to as clear braces and are a popular choice among appearance-conscious adults.
As ceramic braces share a design with traditional metal braces, they actually function in the same way, although treatment times may be lengthier due to the extra friction in the system. However, they're able to treat the same type of complex malocclusions and help correct bad bites.
Why get ceramic braces?
Ceramic braces are particularly popular among adults who are looking for a less obvious treatment option than traditional braces. The use of clear or tooth-coloured products in the appliances makes them both subtle and effective.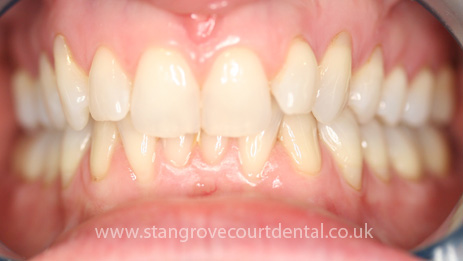 Before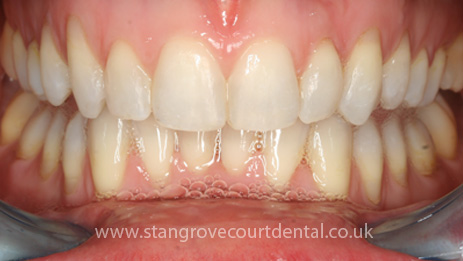 After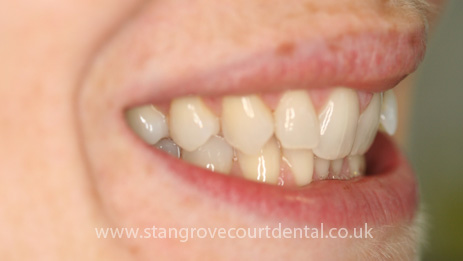 Before
After
Ceramic Braces - Dr. Brij Patel - Stangrove Court Dental Practice
- This patient wanted a quick, but long-term solution to improve her smile. Her main concern was the upper front teeth tipping either backwards or forwards.
- We opted for simple cosmetically focused Orthodontic treatment to align the teeth. Like most patients, she didn't want wait years for an improved smile.
- Her treatment took just over 6 months. Quick and simple monthly appointments.
- Our cases include a set of retainers to help maintain your new smile.
Dr Brij Patel is also able to design your perfect smile using Invisalign clear removable braces and 3D smile design software.
***Book in now for your no obligation, free consultation appointment with Dr. Brij Patel today***
Other techniques we can use in conjunction with Straightening teeth include:
- cosmetic contouring of teeth
- cosmetic composite bonding
- teeth whitening
- ceramic veneers and all-ceramic dentistry
- replacing metal fillings
Dr. Brij Patel is experienced in combining all these skills in order to design your perfect smile. Most cases are completed within 6-12 months.